Dedicated lacrosse guys LIVE to play lacrosse. For a room that reflects his dedication to the sport, decorate it with some great items designed specifically for lacrosse guys.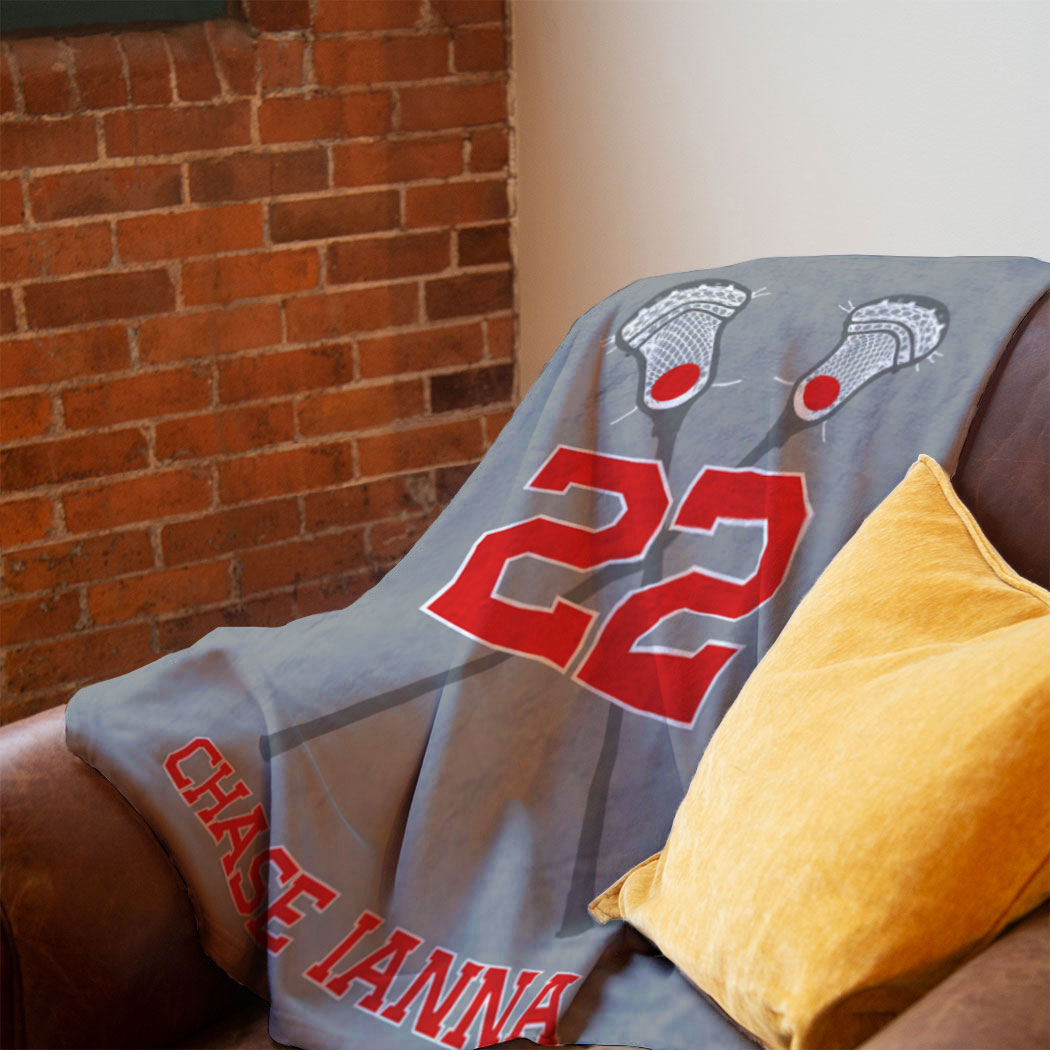 Every bed needs a cozy blanket, and our new Premium Blanket with a lacrosse theme is the place to start. Measuring 40" x 60", this washable blanket has an original lacrosse design on one side backed by plush polyester. Available in vibrant colors and patterns, there are personalized options such as the Crossed Team Sticks design or the Jump Shot Silhouette and even one just for the goalies. Choose his favorite color or his team's colors. It will look great and he'll love using it for sleeping, napping or just relaxing.
To complete the look in a lacrosse bedroom, add a set of Pillowcases to match or complement the Premium Blankets. For patriotic players, the USA Sticks Flag design Pillowcase is a perfect match with the Sherpa Blanket. Or, choose another design in a navy and red color combination, such as the Personalized Crossed Sticks or the Eat Sleep Lacrosse. Either one will look great with the red, white and blue on the blanket.
★★★★★ 5 out of 5 stars
Wonderful Memento!
"My son LOVED the personalized pillow case with his name and lacrosse #. Pillow case is super soft as well!" - Nika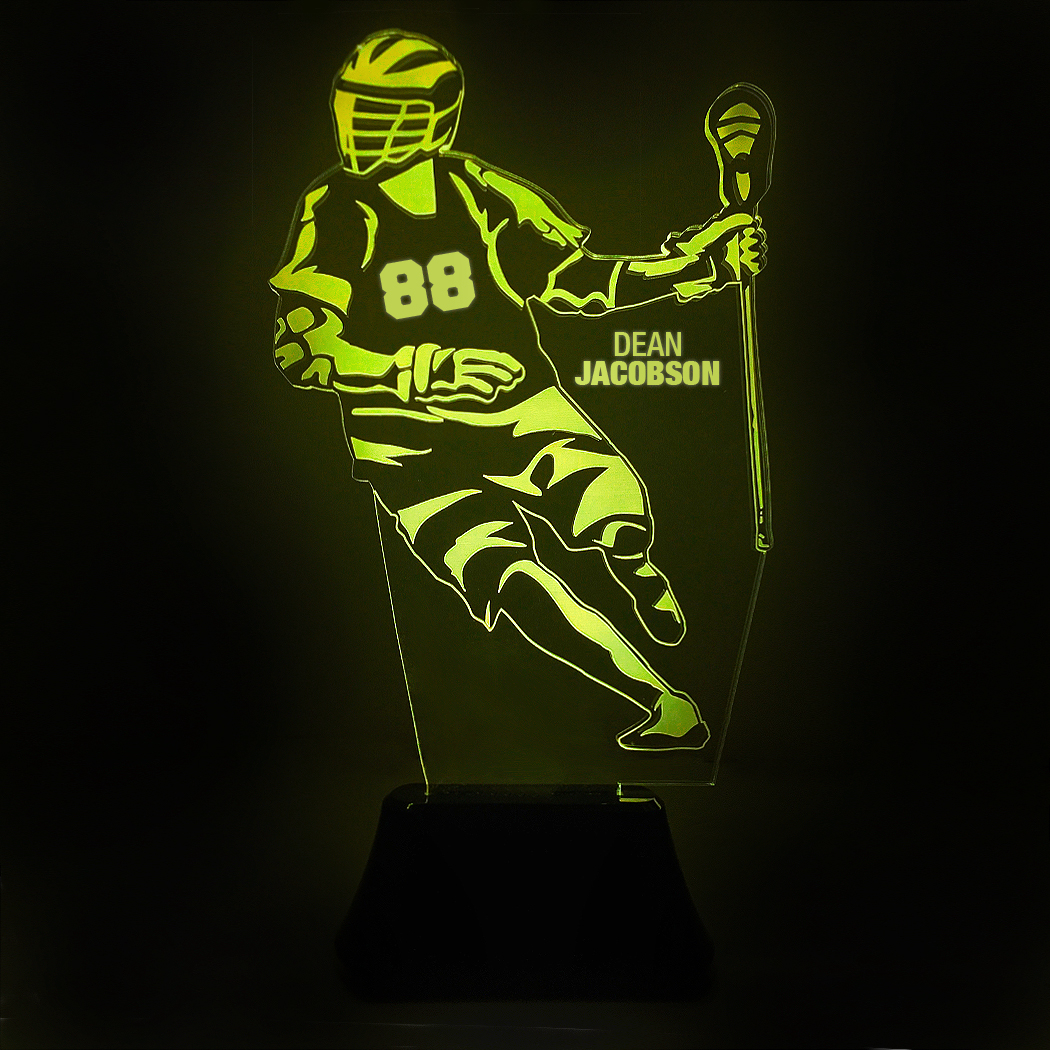 No room is a true lacrosse-theme room without a LED Lamps. Available in a round or outline style, these lamps are perfect on a desk or next to a bed. All feature a silhouette of a guy lacrosse player (even one for a LED Lamps!), and some offer personalization options including his name, team, or number. The most unique aspect of these lamps is that they have 7 different color modes: blue, red, green, orange, turquoise, yellow and white, that can be changed just by pressing a button. These LED Lamps are a fun and useful addition to any lacrosse guy's room.
★★★★★ 5 out of 5 stars
Very cool LED!
"I bought this for my 13-year-old son and he loves it. It is very cool looking and works great." - Barbara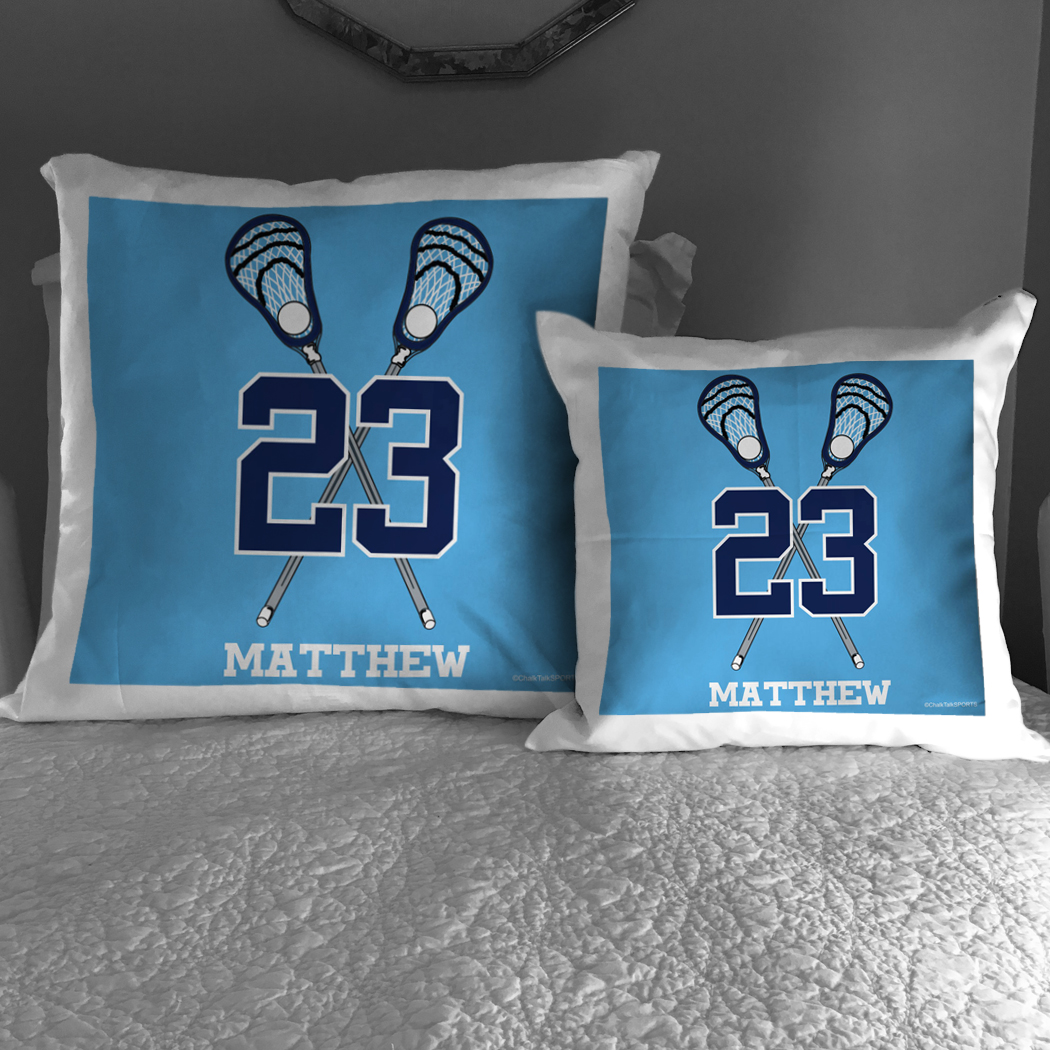 A Throw Pillows is a room accent that is also practical. It is offered in a choice of two sizes: 16" x 16" adds comfort and style to a bed or armchair, and the 24" x 24" size makes a great floor pillow. Printed in vibrant colors on a satiny fabric case, it has a soft faux-down insert which is machine washable. For a design that will work in any room, the Personalized Lacrosse Words Player is a good choice and can be personalized with his name, too.
★★★★★ 5 out of 5 stars
Great quality!!
"This looks fantastic in my son's room. Better than expected. Love this product." - Bobbie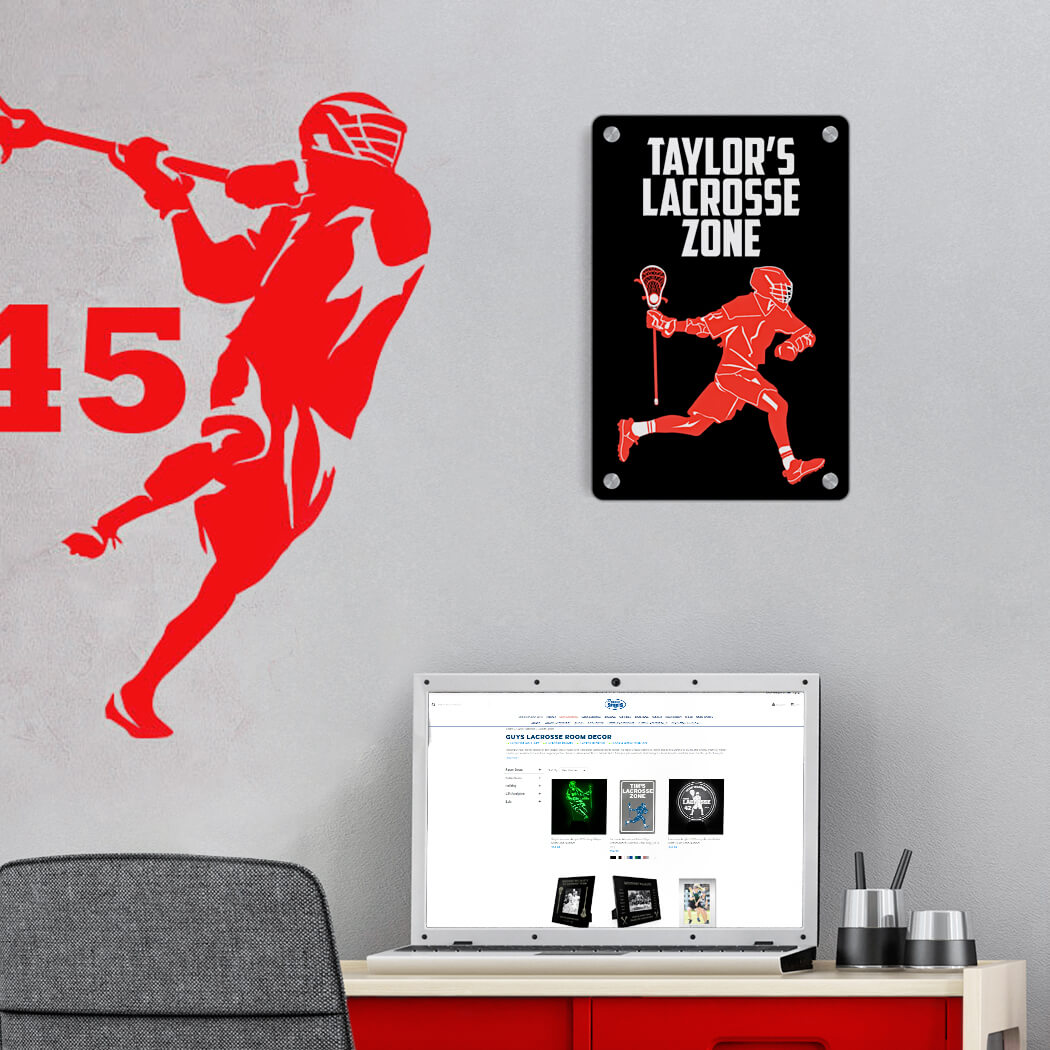 For the walls of the ideal lacrosse room, there are a number of options to consider. Start with a Metal Wall Art, which is available in lots of designs to suit every player. For the player who is also a dog-lover opt for the Max The Lax Dog, or for any player choose a saying like Leave It All On The Field. These wall panels measure 18" x 12" and are attached to the wall with decorative standoff screws in each corner so they appear to float about 1" away from the surface. Lightweight with a glossy finish and vibrant colors, every laxer will love having one of these.
To make a bigger statement on another wall, add a Wall Art Decals in a color to coordinate with the rest of the room. Choose one that can be personalized such as the Personalized Shooter, or if two lax players are sharing the room, the All For One is the perfect choice. Made from a self-adhesive matte vinyl, these Wall Art Decals are available in two sizes, and are easy to apply and remove without harming the wall.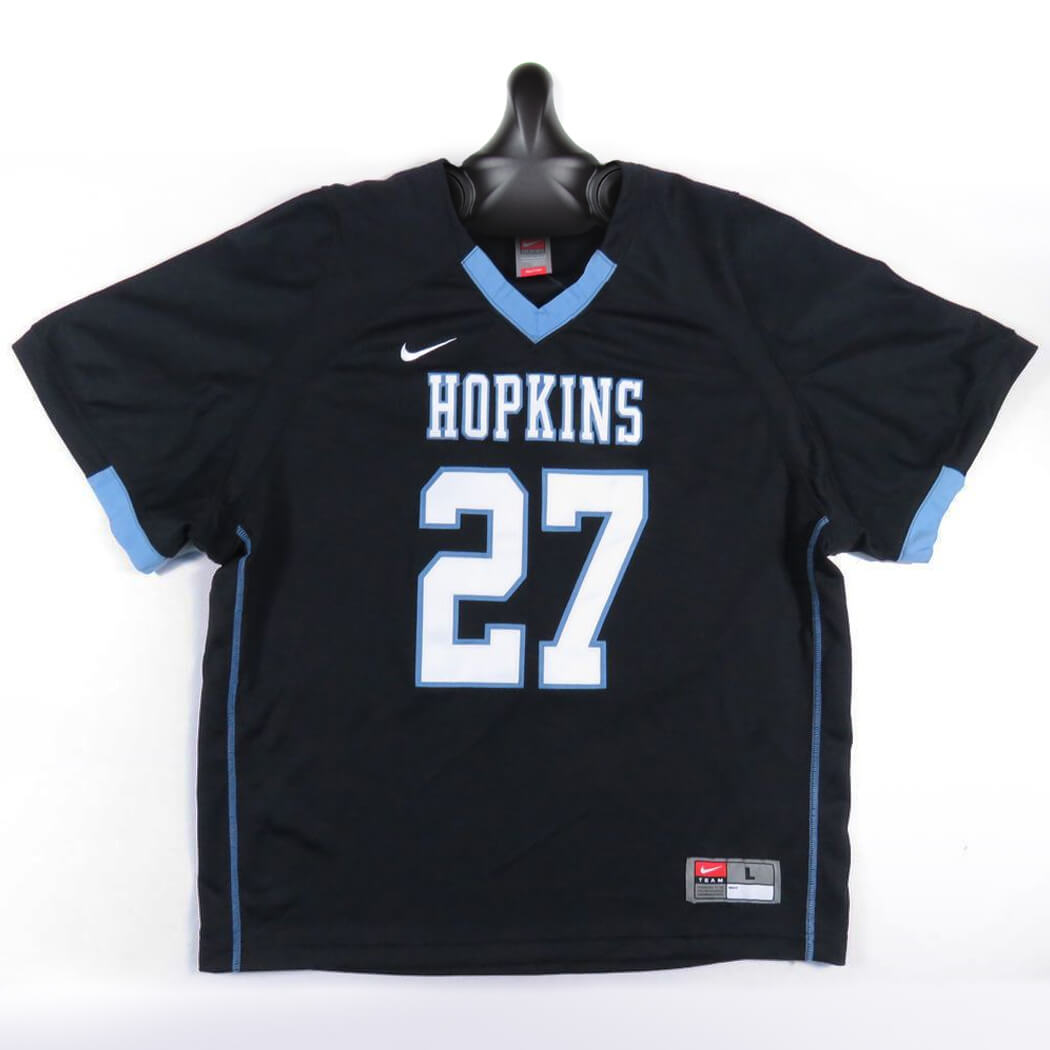 For a unique wall option, hang your favorite lax player's jersey using the JerseyGenius® Wall Display Unit. Similar to a hanger, it can be used to display any shirt or jersey without the expense and commitment of having it in a display case. The unit hangs from a standard nail and can be taken down to wear or switch as easily as taking a shirt out of the closet. This is also a unique way to create the look of a headboard.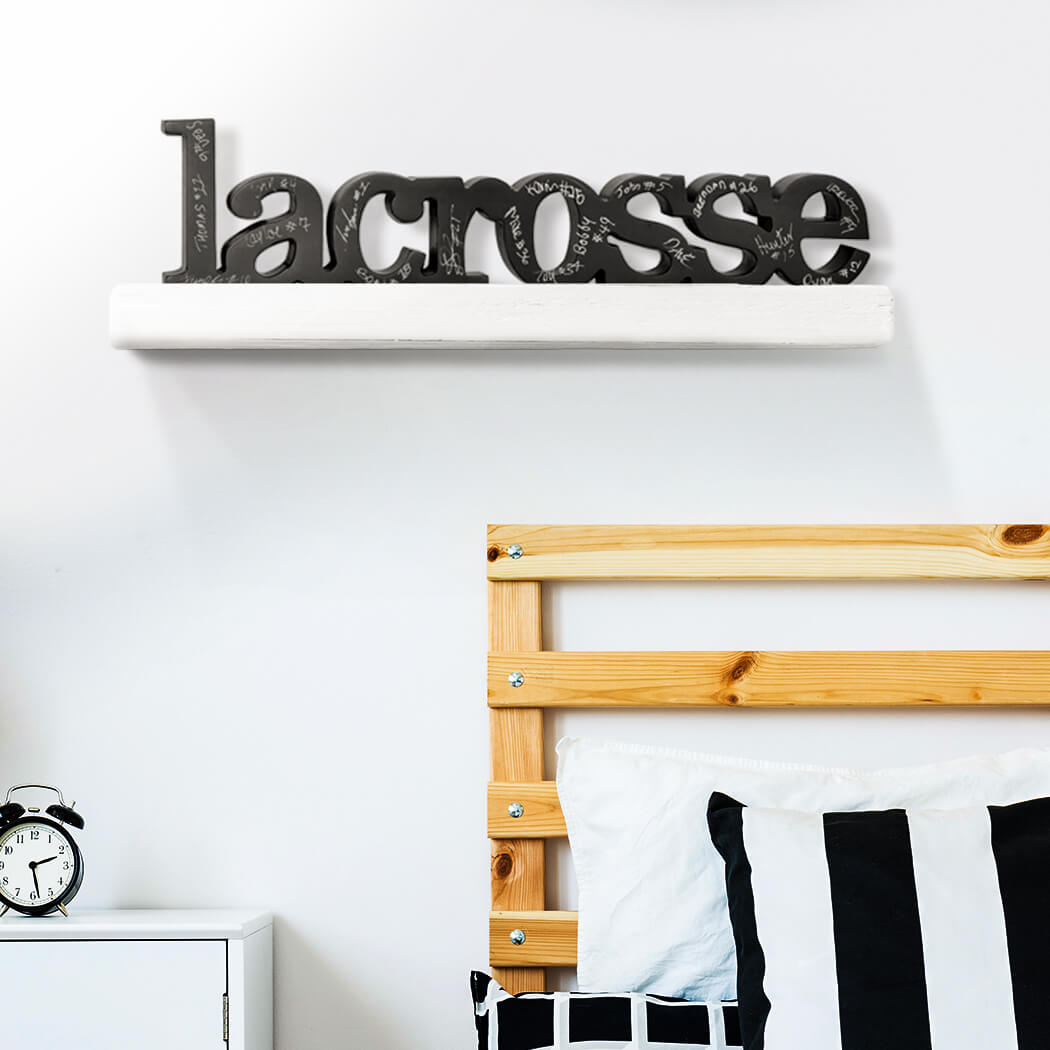 Once the walls and furniture are set, the perfect guy's lacrosse room just needs a couple of decorative items to complete it. The Lacrosse Wood Words are three-dimensional, carved from wood and stand on a desk or shelf. Measuring 15.5" long by 3.5" high and finished on all sides in black, Team Numbers and a Number Sign are also available to add his team number alongside the word "Lacrosse."
★★★★★ 5 out of 5 stars
Lacrosse sports word
"This is the perfect accent for my son's lacrosse themed room. It sits perfectly on a shelf and is a great size - not so small that you can't see it and not so large that it over powers the room." - Teresa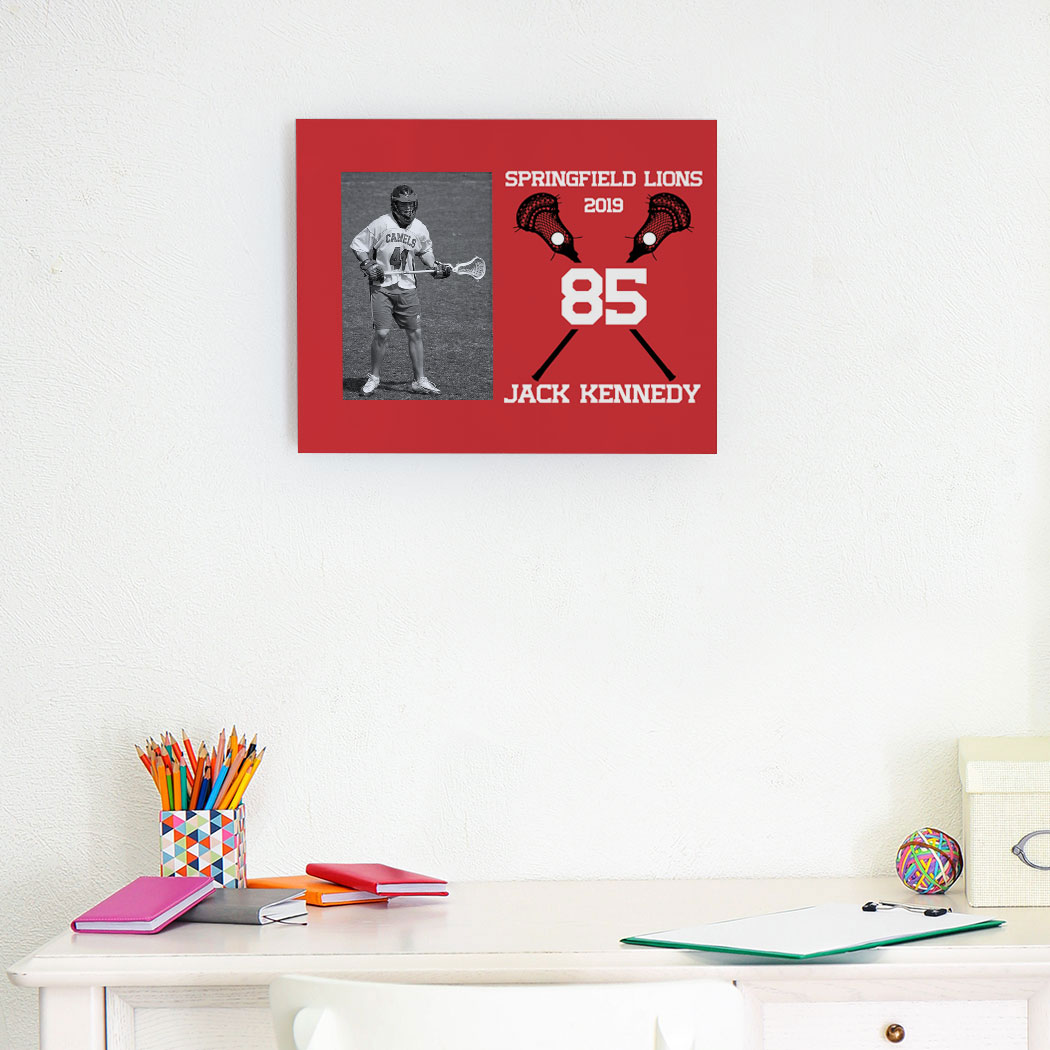 Finally, don't forget to include a photo frame or two on the desk, table or bookshelf. For a frame he'll want to keep for years, choose one of the Engraved Frames in black or silver metal such as the Guys Lacrosse Engraved Picture Frame - Simple Lacrosse. For a younger player, one of the Printed Frames like the My Goal Is To Deny Yours is available in several color combinations. One will match or complement the other items in the room – or choose his favorite color.
Surprise your favorite lacrosse guy with a room that reflects his true style and he will love to call his own. Being surrounded by his favorite sport will inspire him every day to be the best lax player he can be!