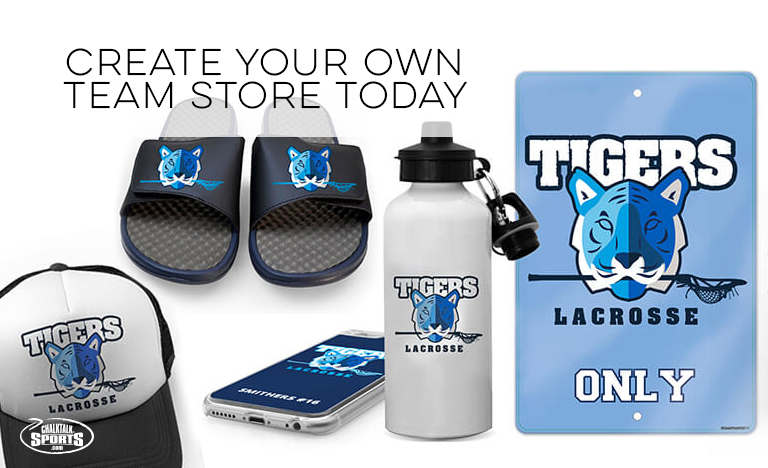 Have you ever wished your team, or your kid's team, had some fun merchandise, only to find out not only was it difficult to obtain, but also expensive. And they wanted you to order 1,000 of anything, and had set up fees, and fees on top of the fees, so on and so forth? Who needs that kind of stress? Just head over to our Team Store Shop and see how easy it can be to create your own team merchandise – and your own team store.
Benefits of creating your own team store:
01. It is free to set up your store – and all of your merchandise.
02. Just send us your logo and you, as well as everyone who visits your store, will see exactly what the items they purchase will look like.
03. You'll have your own store URL to share with players, parents, and fans.
04. You have dozens of items to choose from, including T-Shirts and tank tops, trucker hats, bag tags and phone cases, water bottles, aluminum room signs, and lots more – all featuring your team logo and team colors.
05. You will earn a percentage of every sale and raise funds for your team.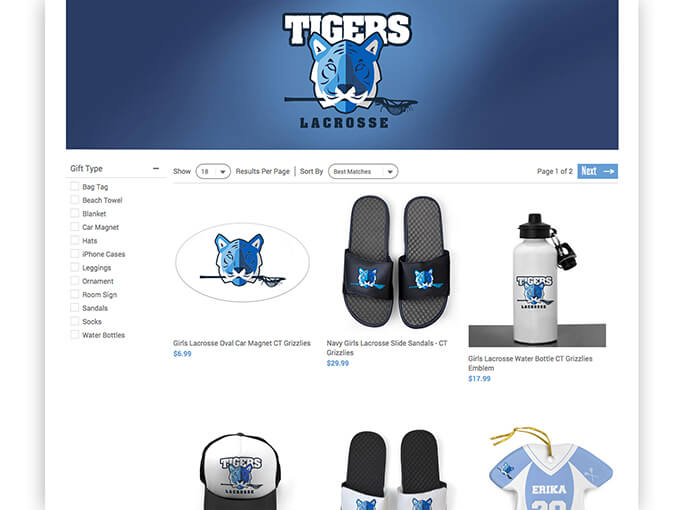 Your players will be proud to wear their team logo shirts, leggings, performance tights, or flip flops and sandals all year round and relaxing with friends. This will help make your team more visible in the community – and draw interest from people who want to check out a game. Parents and relatives, people around town, and school staff will also show their team pride with license plate holders, car magnets, water bottles, and phone cases. And for the home, our sherpa fleece blanket, throw pillows, hook boards, and ceramic mugs are sure to be a popular choice.
Teams who have set up stores loved the results. Not only were they able to create quality and fun products for their teams and raise funds, they also raised team morale, as they loved seeing the store and purchasing products they proudly were able to show off around town. Coach Brewer from the St. Francis Baseball team was particularly impressed with the response from the students in the school – he said, "I couldn't believe how quickly the store took off – and how many of the students were wearing different accessories or drinking from water bottles with our logo. It was definitely a boost for the team – and you could see it on the field." Coach McMinn, who has been with the Owls hockey team for over a decade marveled at how easy it was to set up the store. He said, "I'd definitely recommend setting up a store – not only was it quick and easy, but everyone at Chalk Talk Sports was so nice to work with – and the merchandise is great."
Set your team on the path to greatness – and make them feel like they're part of the major leagues with their own store. Start setting up your store today, or contact us today with any questions you have.
We're looking forward to working with you and your team!